Best Payment Processing Services
Landscapers need payment processing that is as versatile as their lawn care services. Whether you offer small-scale residential lawn care or commercial landscaping services, it is important to utilize flexible merchant services that appeal to any type of customer.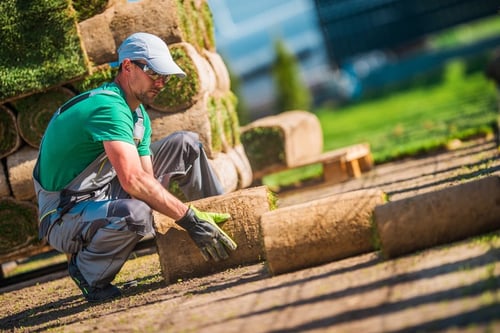 By choosing us to manage the payment processing for your lawn care service, you eliminate the risks of missed payments and the stress of revenue management through a comprehensive payment platform that streamlines business operations while ensuring fast and secure payments from any location.
Benefits of Payment Processing
You expect simple, convenient payment processing solutions for your lawn care business, and your customers have grown to expect the same. These days, people want quick, seamless transactions for their services. The days of writing a check and choosing a time and place for a physical payment are over.
With contactless payment solutions, you and your landscaping clients benefit from a virtual platform with an array of convenient payment solutions, including:
Recurring Payments: Sure, you may have that one specific, big-time job that only comes seasonally, but if you are mowing lawns, trimming bushes or hedges, and pruning, don't you want clients to be consistent customers? With Recurring payments, you can set it and forget it! You'll collect your payments seamlessly each month.
Email Invoicing: With email invoicing, your clients will receive monthly invoices for the services you provide without extra communication, texting, or confusion.
Get Paid Faster: The convenience is wonderful, but what actually comes of that convenience? You getting paid quicker for your hard work.
If the benefits of adding payment processing to your lawn care business sound appealing and convenient, another even more appealing point is that we have made the setup process as simple as possible.
You can stay focused on running your business, and we will make the transition to your new landscaping merchant services as quick as possible. We offer lawn care service providers a virtual terminal payment gateway that includes all of the fantastic benefits listed above, such as online payments, email invoicing, and recurring payments.
Our lawn care service providers have found our virtual terminal incredibly beneficial. Decrease your time chasing down checks and increase your time taking on new clients. That way, our service will never detract from your lawn care service's branding or reputation.
With over 20 years of business, you can remain confident knowing you will be speaking directly with a real, native-English speaking person regardless of when you call for support. Our team is available at all hours of the day, every day of the year, and are eager to help you find your payment processing solutions.
For All Your Lawn Care Payment Processing Needs
Running a lawn care business consumes time and energy that shouldn't be wasted on managing payments and tracking charges. You need a payment processing merchant services provider that will work efficiently and quickly for you. Stay ahead of the game and maximize your customer retention (and growth).
Save time and get paid quicker for your hard work by choosing our payment processing and virtual terminal to manage your lawn care payment processing.
If you are interested, we provide additional benefits and features, such as:
Mobile Pay
Website Design
Gift Card and Loyalty Options
There is no better time to switch to a faster, more convenient, and more modern way of accepting payments than right now. Stay ahead of your competition and keep your clients happy when you choose Electronic Merchant Systems as your landscaping Payment Processing Provider.
To start accepting online payments, setting up recurring payments, and utilizing email invoicing for your lawn care business today, click the image below.
Virtual Terminal
Virtual Terminal assists Lawn Care and Landscaping businesses with the following benefits:
Online Payments
Email Invoicing
Recurring monthly payments
Customer retention
Significantly increased convenience